Start with a seed and you see it grow into a big tree. Start with a tree, and you won't have quite the same dramatic growth. That's small cap investing!
A small cap portfolio comprises of quality companies that are future leaders of tomorrow if history has to be believed, small caps have out-performed large caps in India and across global markets including USA.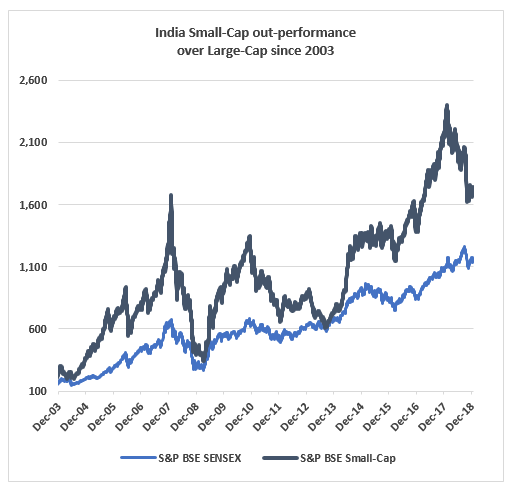 One may ask what's the secret behind the success of Small Cap? It's time to investigate!
Strong Fundamentals – Since stock prices are slaves of earnings, quality small cap stocks have shown strong earnings as compared to large caps. As a result, small cap outperforms large caps in the long run.
Under-covered & Under-researched – If statistics are to be believed, out of 870 stocks in BSE Small Cap Index, 210 stocks are not covered by any analyst. Only a meagre 398 stocks are covered by less than 5 analysts. This in comparison to average number of analysts covering large cap is 30 and mid cap is 15.
Ideal for Alpha Generation – Post SEBI scheme categorization investible universe in large cap and mid cap segment has shrunk to 100 & 150 stocks respectively in each category.
This may compel fund managers to hunt alpha in the wide universe of over 2500 stocks available in small caps. As a result, over Rs 1 lakh crore can find its way into small cap stocks surging their demand.
Also, looking at the smaller base, small caps can grow faster, consistently delivering on operating performance thereby appearing on the radar screen of more and more investors.
Now is the time!
Investing in small cap has been rewarding when last one year returns are negative. Currently, small cap index is down over 28% in last one year and thus may be a good time to invest in this category. In recent market fall, over 75% of small-cap stocks in the Nifty smallcap 250 index have fallen more than 30% from their peak which gives good opportunity to hunt for quality small-cap stocks.
To conclude, one should take an informed decision before investing in small cap funds. Patience is the virtue here since one is expected to stay invested for long term and especially during volatile markets.
When investors in general are too risk-tolerant, markets are more risky than the returns they can generate. And when investors are too risk-averse, markets can offer better returns than the risk they carry.
Many investors today have become risk-averse in small caps and probably the risk-reward is favorable.