60% of investors do not have clear financial goals and 70% don't have a plan in place to reach what goals they have.
A global survey of investors conducted by France based asset management firm Natixis shows that 60% of investors do not have clear financial goals and 70% don't have a plan in place to reach what goals they have.
Although the study didn't include India, the findings seem relevant in the Indian context too.
Investors tend to invest whenever they have surplus cash and move out when they are in losses or in profit without having an objective behind their investment.
Financial advisors and asset managers in India too have realized this problem and there has been a shift towards goal based financial planning.
However, Vinayak Sapre of VVS Ventures has a different take on this issue. He says that it is not correct to blame investors. "Investors have been sold products without proper thought and understanding. It is only now that advisors are focusing on goal based investing. The advisory profession is undergoing a change for the good."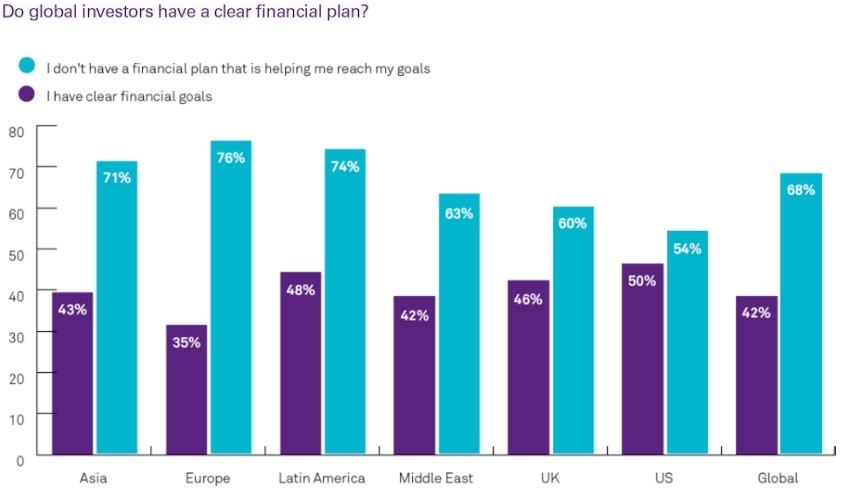 Safety over performance
The survey shows that investors need gains of 9% above inflation every year to meet their financial goals. However, they are unwilling to take the risk required to attain this goal.
In fact, seven out of ten say they would prefer safety over outperformance if they had to choose. 78% of investors surveyed favour safety over performance.
Not surprisingly, investors in India too are wary of volatility, which is perhaps the reason they invest in fixed deposits. Hemant Rustagi of Wiseinvest Advisors is of the view that large number of investors in India look at absolute returns while investing. "Investors don't understand the concept of real returns which is why they invest in bank fixed deposits. They look at past returns and invest in best performing asset class and go overboard on it."
In the Natixis report, Dr Andrew Lo, chief investment strategist, AlphaSimplex Group says that it is too easy to label investors as being bad at understanding risk. "I think it's wrong to conclude that investors don't understand risk. Instead, I think that the investment management industry has been bad at presenting risk to investors. If you ask people what they want, it's to experience fewer peaks and troughs along the way."
However, Hemant is of the view that it is not the job of manufacturer to educate investors about risk. "There is a risk inherent in everything. A non-convertible debenture of a company also carries risk. Even debt funds carry inflation risk. This is a much larger issue and all the stakeholders are responsible."
Vinayak suggests that advisors should be able to communicate to their clients that they would not be able to achieve goals without taking risk. "Advisors should map the returns of a fixed deposit with a long term goal and tell clients that they won't be able to achieve that goal. They can ask whether they are ready to compromise on their goal."
Lack of contact
A common issue for investors across the world is that while many use an investment adviser, there is not much contact as a result of which financial goals are not being properly discussed. The survey says that this is an opportunity for advisors to forge stronger relationship with their clients.
While Hemant concedes there is a lack of adequate contact between advisors and clients, he says that the trend in India is changing. "Today, investors have a lot of information at their hands and their expectations have increased. Advisors have realized this and they have started to show value add to clients. There is an increasing focus towards financial planning," Hemant adds.
The survey was conducted in 14 countries in six region.