The top five fund houses account for 71% of the industry's profit, according to HD 'Asset Management Companies' report. PAT (profit after tax) denotes the fund house profit.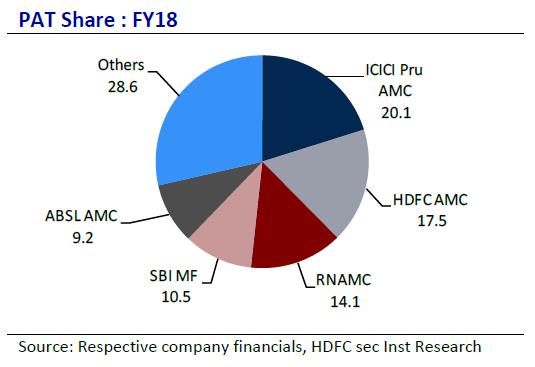 Overall, the mutual fund industry has witnessed a 26% (CAGR) growth in its assets from Rs. 8.25 lakh crore in FY 14 to Rs.24.03 lakh crore in November 2018. In line with the growth in AUM, the PAT of the industry grew 28% during FY 14 to FY 18.
A key reason for the growth in profitability is the rising share of equity assets in the industry. The share of equity vis-à-vis the total industry AUM has grown continuously since 2014. Over the last four years, the equity AUM grew at 36% CAGR to reach Rs.9.20 lakh crore. As of November 2018, 40% of the industry
assets were in equities compared to 25% in FY2014.
According to the report, fund houses having higher equity assets tend to deliver higher returns on assets represented by PAT as a percentage of AUM. For instance, around 94% of the assets of Motilal Oswal MF is equiy. Moreover, the fund house has higher share of PMS assets, which further drove up its profitability.
While equity flows contribute to higher profitability, index movement affected them. The report observes that the equity flows were sensitive to 12 month trailing index performance. Typically, good markets brought higher flows. Other factors that positively influence equity market flows are higher money supply and GDP growth.
TTM returns stands for trailing twelve months returns
Madhukar Ladha, Analyst, HDFC Securities has authored this report.
The last few months have been turbulent for equity markets. So far, equity market flows have held on despite the volatility. The fund houses have net equity inflows of Rs.90932 lakh crore year to date in pure equity and balanced funds. While this is substantially lower than FY18 number (Rs. 2.46 lakh crore), industry veterans see the positive inflows in face of market volatility as a sign of investor maturity.