Reliance Mutual Fund is an industry leader in terms of retail assets, finds HDFC Securities report. Reliance MF held 13.9% of the industry's retail assets as on October 2018. HDFC MF and UTI MF follow Reliance in the second and third place, respectively.
Compared to March 2015, Reliance MF has seen its share in the retail AUM pie grow by 3.6% while HDFC MF's and UTI MF's share fell by over 2%.
Overall, top five fund houses account for 55.6% of the retail AUM in October 2018, a fall of 5.1% compared to March 2015.
Usually, retail assets see lower churning compared to institutional AUM. This makes retail AUM important for mutual funds.
Top 10 MFs as per retail asset share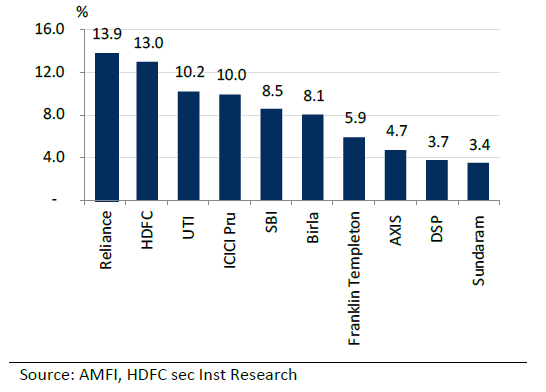 HNI asset share
ICICI Prudential MF (17.5%) leads the pack in terms of HNI assets. HDFC MF comes a close second at 17% as per the report.
Both these fund houses have consistently held 16-17% of HNI assets of the industry over the last four years. Meanwhile, Aditya Birla Sun Life MF and Kotak MF have seen a gradual increase in their share of HNI asset pie during the year.
While Reliance MF is the market leader in retail assets, it reported a sharp drop in HNI asset share from 11% to 5.4% between March 2015 and October 2018.
Overall, top five fund houses hold 62.3% market share of HNI assets.
Top 10 MFs as per HNI asset share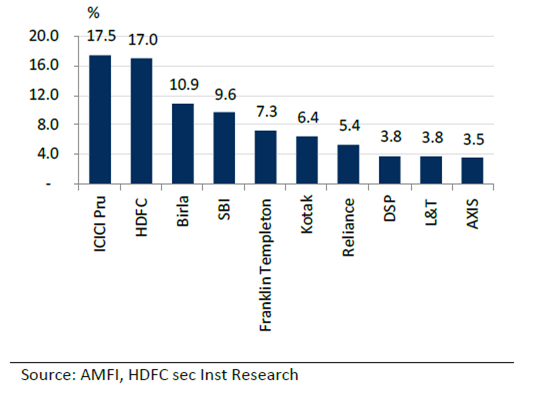 According to the report, bank backed fund houses have an edge over corporate backed mutual funds. Banks typically have a huge pool of existing clients whom they tap for mutual fund investments. This gives bank backed MFs an advantage over their corporate backed counterparts.