Of the Rs. 5,268 crore gross direct sales in equity funds, Rs. 681 crore (13%) was contributed by RIAs in December 2018, shows a recent CAMS report. Of the Rs. 681 crore which came through RIAs, lumpsum sales were Rs. 568 crore and the remaining assets came through SIPs.
Equity funds include pure equity, balanced, ELSS, ETF, arbitrage and index funds. However, if we exclude arbitrage, ETF and index funds from the mix then the share of RIAs rise to 19% (Rs. 429 crore of Rs. 2,232 crore) of direct equity investments in December 2018.
The CAMS report covers 67% of industry data.
Equity –Direct Gross Sales (Rs. Crore)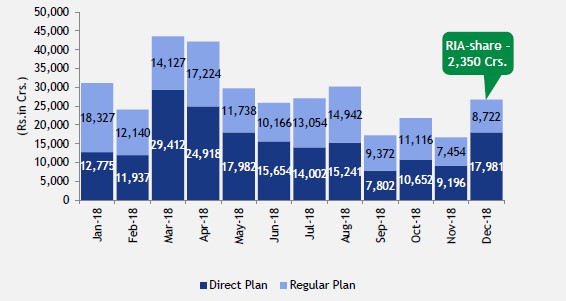 Source: CAMS
If we look at the total inflows in equity funds, RIAs account for 4% of such inflows. Analyzing further, we observe that distributors still contribute majority of the industry's equity investments. Around 68% of the industry's gross equity sales came through the regular plan. SIP which is popular among retail investors saw higher contribution by distributors. Of the monthly SIP book of Rs. 5,901 crore of the industry's SIP investments, Rs. 5088 crore (85%) came through regular plan. Meanwhile, RIAs mobilized 2% of SIP flows.
Equity Gross Sales (Rs. Crore)
| | | | | |
| --- | --- | --- | --- | --- |
| Equity Gross Sales | RIA | Total Direct | Regular | Total industry flows |
| Lumpsum | 568 | 4455 | 6353 | 10808 |
| SIP | 113 | 813 | 5088 | 5901 |
| Total | 681 | 5268 | 11441 | 16709 |
Source: CAMS
Debt funds
RIAs contributed 13% of the total direct gross sales. That is of the Rs. 17,981 crore direct debt fund sales, Rs. 2,350 crore have been brought in by RIAs. Debt funds include bond, capital protection, gilt, MIP, SIP and ultra liquid.
Debt –Direct Gross Sales (Rs. Crore)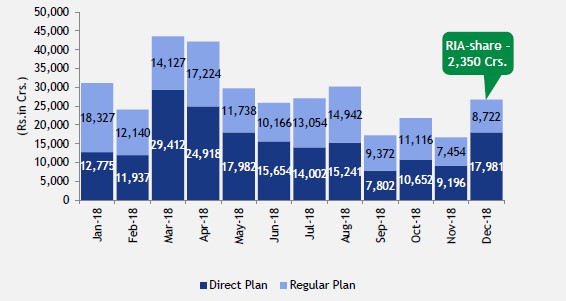 Source: CAMS
New folios creation
Though RIAs account for a small percentage of assets, their contribution in folio creation is quite high. RIAs have contributed 64% of the new direct equity folios in T30 cities and 67% of folios in B30 cities in December. On debt side too, 65% of the new direct folios from T30 cities came through RIAs and so did 70% of the new direct folios in B30 cities.