Equity mutual funds account for 5.9% of India's stock market capitalisation as on February 2019. It has grown by 0.6% in the last one year, shows a recent Motilal Oswal Report titled 'Fund Folio – Indian Mutual Fund Tracker'.
India's equity market capitalisation stood at Rs. 140 lakh crore while the mutual fund industry's equity AUM was at Rs.8.29 lakh crore at the end of February.
Equity AUM includes pure equity, ELSS and arbitrage funds.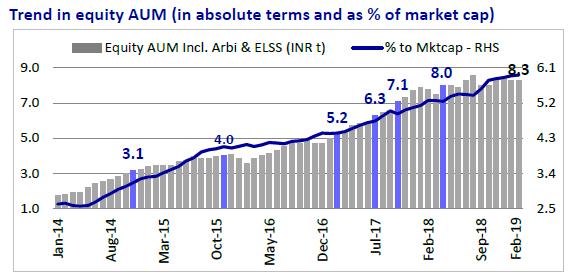 Source: Motilal Oswal
Strong retail participation in equity markets has helped the growth in equity AUM. The industry saw net inflows of Rs. 1 lakh crore in equity funds in April-February 2019.
According to the report, while the street exercised caution amid a flurry of unsupportive domestic and global cues, mutual fund investors appeared to be undeterred by market volatility as reflected by the record SIP flows.
Monthly inflows in SIPs was at an all-time high of 8,095 crore in February 2019, growing by 26% year-on-year or 2x in last two years, shared the report.
AMFI CEO NS Venkatesh called the healthy mutual fund inflows in equity markets as a counterbalancing force against selling pressures.
Overall, mutual fund equity AUM grew by 7% in the last one year (from Rs. 7.76 lakh crore in February 2018 to Rs. 8.29 lakh crore in February 2019).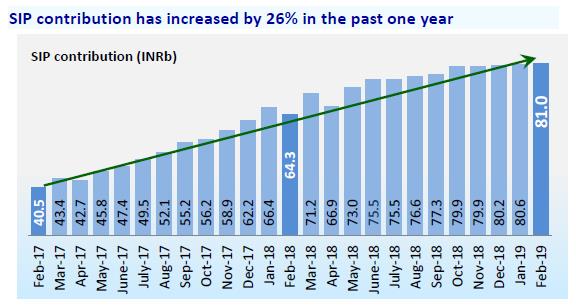 Source: Motilal Oswal