In 2018, fund houses launched 66 new open-ended schemes. This is the highest scheme launch in a calendar year after 2008, where the mutual fund industry launched 73 schemes.
In October 2017, SEBI announced guidelines for categorisation and rationalisation of schemes. Under the new framework, SEBI allowed fund houses to have only one scheme per category. SEBI also announced distinct definitions for each category of fund. Accordingly, there were 36 fund categories listed by SEBI.
The idea behind having uniform categories was to make decision making easy for investors. In addition, SEBI wanted to restrict fund houses from launching similar schemes, which may hamper investors from taking an informed investment decision. However, during the scheme classification, SEBI introduced many new fund categories. The immediate aftermath of which was, fund houses rushed to fill their product gaps.
Analysis of AMFI data shows that last year recorded one of the highest new scheme launches since CY 2008. Majority of the new scheme launches were in Equity ETF category (7), followed by aggressive hybrid funds (6), sectoral funds and equity savings fund (5). On debt side, corporate bond fund saw three new launches.
Two distinct trends emerged last year. With SEBI mandating TRI benchmarks for schemes, it has become difficult for large cap funds to generate significant outperformance to their benchmarks. Consequently, we have seen higher equity ETF launches. These are mainly large cap oriented funds providing a low cost passive investment option for investors. So far in 2019, three new equity ETFs have been launched. In addition, MFs have also launched index funds (two in 2019 and one in 2018), which are also passive investment options.
The recent shocks in debt markets have prompted investors to look at investment options safer than liquid funds. Herein, two categories of funds have gained prominence – overnight fund and liquid ETF fund as both mainly invest in overnight repos. The categories saw five launches in 2018 and three in 2019.
While there has been a sharp increase in fund launches post SEBI rationalisation, this is likely to decline in coming years once fund houses fill in their product gaps.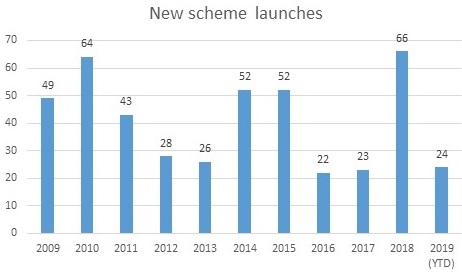 Source: AMFI