The sustained bull run in equity markets has made equities the most loved asset class for individual investors. In fact, direct equity now accounts for 21% of the total financial wealth pie of individual financial wealth in India, says Karvy Wealth Report 2018.
Individual wealth includes contribution from both HNIs and retail investors.
Classification of wealth in India based on financial assets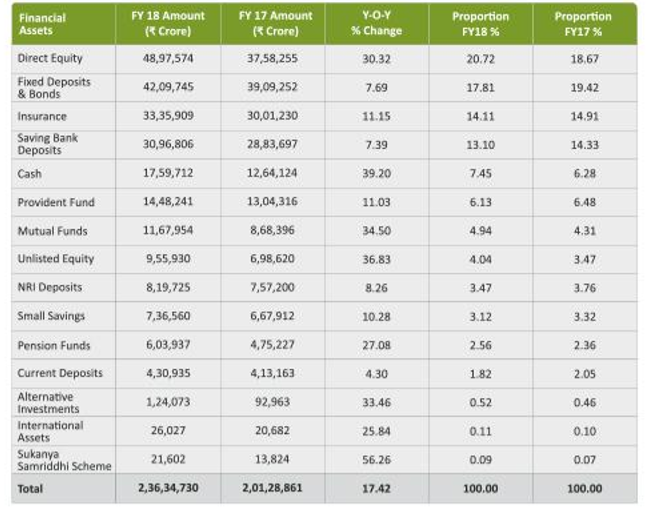 Abhijit Bhave, CEO Karvy Private Wealth believes that investors affinity towards direct equity would continue to grow faster. Consequently, their allocation towards physical assets mainly gold would decline due to changing mindset of Indian investors, particularly millennials.
Direct equities includes promoter's shares also.
Fixed deposit and insurance follow direct equity in terms of weightage in individual wealth pie.
Mutual funds, which comes fifth, has recorded a healthy 35% in individual asset allocation. A sustained bull run in equities, continuous investor awareness efforts by AMCs, 'Mutual Funds Sahi Hai' a focussed campaign by AMFI has made mutual funds one of the biggest growth drivers of wealth in FY18, says the report. The report further notes that both domestic and foreign investors have identified MFs as the easiest way to participate in the India growth story. Consequently, Indian mutual fund industry added around 32 lakh new investors to their kitty in FY 17-18. Consistently growing inflows through SIP route coupled with robust lumpsum investments have helped MFs grow at an enviable pace, notes the report. Majority of the individual investments in mutual funds came in equity funds (67.90%).
Individual wealth in financial assets grew at a robust rate of 17.34% to reach Rs. 234.34 lakh crore in FY 17-18 from 201.28 crore in FY 16-17 based on findings of the latest Karvy Wealth Report. In comparison, the wealth in physical assets grew at 9.24% indicating a higher preference for financial assets.
The report shares that financial assets grew at double digits in the last few years and now constitute 60.22% share of Individual wealth in the year ending FY17-18. Meanwhile the share of physical assets fell to 39.78% compared to 41.52% in FY 16-17.